Low Carb Deep Fried Goat Cheese
February 28, 2018
I was at a fancy restaurant with some friends and someone ordered a salad with deep fried goat cheese. Let's ditch the salad and go right for the best part! This is our keto friendly version that packs a lot of flavor into a little ball. These are best served warm and can be a great appetizer, salad topping, or even a side dish!
A deep fryer is great to have for this recipe, but it isn't an absolute requirement. We used the Presto Deep Fryer and it performed flawlessly! If you have a pot (or a deep cast iron skillet pan) and a stove top, you can do it, but you have to be careful about getting the oil to the right temperature. The oil should be about 350 degrees for frying.
Ingredients:
18 oz goat cheese or chèvre (cut in to 6 - 3oz rounds)
1 cup pork rinds (crushed)
1/2 cup almond flour
1/4 cup coconut flour
1/4 cup chopped fresh parsley
24 oz vegetable oil for frying
Directions:
Step 1 - Cut and form goat cheese in to small rounds about 2" in diameter and 1" in thickness and set aside.
Step 2 - Crush pork rinds and place in bowl, mix in the almond flour and coconut flour.
Step 3 - Beat eggs in small bowl and set aside.
Step 4 - Finely chop the parsley and set aside.
Step 5 - Preheat oil to 350.
Step 6 - Take the goat cheese rounds and roll them in the parsley to coat all sides.
Step 7 - Press the parsley coated goat cheese rounds in to the crushed pork rind mixture.
Step 8 - Remove the cheese round from the pork rind mixture and then dunk in to the egg. Then, with a fork, lift from underneath the cheese and place back in to the pork rind coating. Cover the cheese in the breading using fingers to help press lightly to ensure that coating covers the cheese all over. Repeat with remaining cheese rounds.
Step 9 - Once oil has reached 350, with a slotted spoon, carefully drop the cheese rounds in to the fryer one at a time, maximum of 3 per batch. Fry for approximately 3 to 5 minutes until golden.
Step 10 - Remove cheese from oil with slotted spoon, on to a plate with a few paper towels to absorb excess oil. Let cool for a couple minutes before serving.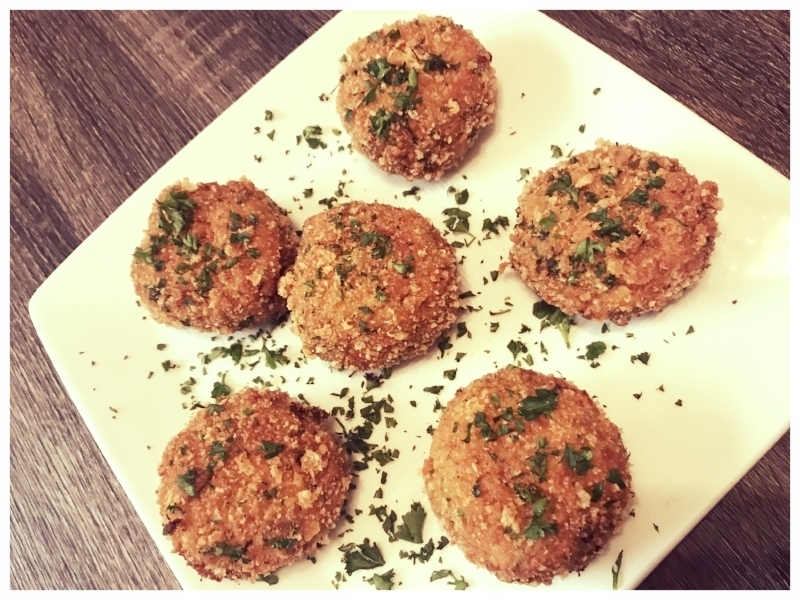 Macros breakdown brought to you by Stupid Simple Keto